Last news:



PFM WORLD TOUR



- 9 maggio SEUL (Korea)

- 12 maggio TOKIO (Japan)

- 13 maggio TOKIO (Japan)

- 14 maggio TOKYO (Japan)

- 20 maggio TIANA (Barcellona-Spagna)





17 gennaio 2006




august 23, 2005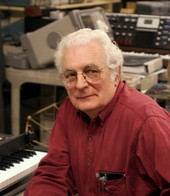 Thank you Mr. Robert Moog !
Yesterday night in Asheville (North Carolina) Mr. Robert Moog passed away. He was the great inventor of the namesake analog synthesizers.

august 2, 2005
Due to Franco Mussida's health condition the summer tour has been suspended and will restart on the 7th September 2005
For updated venues


july 2, 2005
New venues added to the Italian Tour, check the Tour section.

may 10, 2005
In July - PFM' s World Tour :
01/07/05

SAN PAOLO Brasile

Credicard Hall

02/07/05

RIO DE JANEIRO Brasile

Olimpo Hall

04/07/05

BELO HORIZONTE Brasile

Palacio das Artes

08/07/05

BETHLEHEM Pennsylvania USA

Zoeller Arts Center
Lehigh University

10/07/05

CITTA' DEL MESSICO

Sala Ollin Yolliztli

12/07/05

MONTREAL Canada

Spectrum

13/07/05

QUEBEC CITY Canada

Salle Albert de Rousseau

14/07/05

TORONTO
Canada

Phoenix Concert Theatre

infoline 416-350-7882
www.ticketmaster.ca www.prima-fila.net

january 22, 2005
PFM on TV: ALL MUSIC - monday 24 alle 22:30
saturday 29 alle 21:00
sunday 30 alle 16:00
ROCK TV - tuesday 25 alle 13:30

january 3, 2005
"PIAZZA DEL CAMPO" cd Cover. The CD is coming out on the 21-01-2005.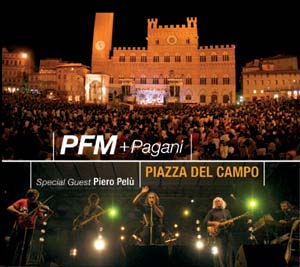 dicember 16, 2004
ATTENTION:
TODAY'S VENUE HAS BEEN DEFERRED TO THE 20th of DECEMBER !!
(The Reason is - Flavio Premoli's bronchitis)


november 22, 2004
Get ready the 14-01-2005 will come out:
the cd "PIAZZA DEL CAMPO" (Live in Siena PFM + Pagani)
and the deluxe box which includes:
the cd "PIAZZA DEL CAMPO"+ the DVD (special guest Piero Pelů)

november 21, 2004
PFM at the Progressive Legends :
http://www.nearfest.com
http://www.progressive-arts.net

july 12, 2004
29th july PFM in Termoli - Special Career's Award
RAI 1:"Rino Gaetano's Award 2004" PFM - Career's Award.

july 05, 2004
LIVE IN SIENA uno show da PREMIO
Prizegiving for the "BEST SHOW 2003" after the referendum held by the music magazine«L'isola che non c'era». Taking part to the event: Mauro Pagani, PFM, Beppe Quirici and Fernanda Pivano.


La Feltrinelli, piazza Piemonte 2, Milano, ore 17.30

june
22, 2004
PFM - YES: Voghera Rock Festival
02 luglio 2004: c/o ex-Caserma di Cavalleria, Voghera (PV)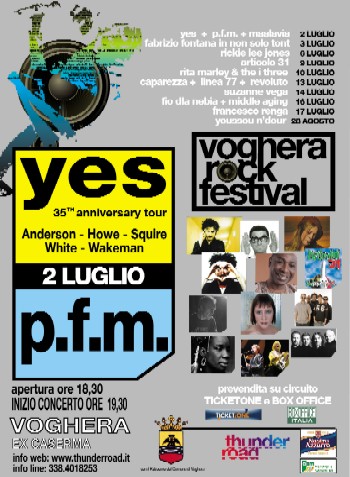 may 18, 2004
THE 70s: THE TURNING POINT
thursday the 3rd june at 22.50pm on Raidue

A musical trip through the inedit and exclusive images of: Beatles, Genesis, Pink Floyd, Lou Reed, PFM at the Palalido in Lambro Park.

The program is presented by: Piero Pelu', Francesco Di Giacomo, Mauro Pagani and Franz Di Cioccio.

march 09, 2004

NEW E-MAIL: Waiting for the recovery of PFM's mail you can write to the band with thisone: pfm@diedi.com

february 5, 2004
PFM - LIVE
New Concerts

January 6, 2004
REPEAT on January, 14!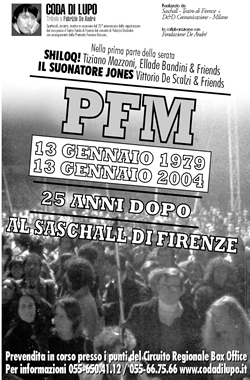 5th December, 2003
The tribute of the top italian artists to Fabrizio De André has been released last week and the double CD it's now first on the charts.

December, 2003

download!!!

February 22th THANKS IAN!!!

"The record ["PFM live in Japan 2002"] is a testimony to the greatness of European classic and progressive rock. PFM have all of their old finesse and I wish I could make a live album that sounded so good!"


(Ian Anderson, Jethro Tull) http://www.j-tull.com




December, 6th, 2002


It's on sale the DVD "PFM JAPAN TOUR 2002"


November, 20th, 2002


TAKE A PICTURE OF YOUR SONG


October, 31th, 2002

NOVEMBER 8th
it's on sale the double CD "PFM JAPAN TOUR 2002" plus two bonus track:
"Bandiera Bianca" by Franco Battiato (special PFM version)
"See of memory" a new PFM song with the lyrics and the lead vocal of Peter Hammill

NOVEMBER 11th:
CELEBRATION DAY thirtieth anniversari of PFM' discografy
PFM with Peter Hammill – Mauro Pagani – Cristiano De André
ALCATRAZ Via Valtellina – MILANO
Door open at 7.00 p.m.

NOVEMBER 15th
the relise of DVD "PFM LIVE IN JAPAN 2002"



October the 4th, 2002

NEWS!!!!!
http://www.msn.it/intrattenimento/musica/pfm/



May the 16th, 2002

Special CentroAmerica




May the 13th, 2002

Yesterday, in Tokyo, PFM recorded a CD Live and a DVD!!!
This evening PFM will be in Italy.

Report from Japan



Mailing list:
Go into CELEBRATION, PFM'mailing list entra.in.mailing.list@pfmpfm.it




Your photos about PFM



Do you like to have a banner on this site? pfmpfm@pfmpfm.it